Joined

Oct 8, 2002
Messages

7,851
Location
1 master box - 2 mini boxes
Every mini-box contains an auto'd relic and a relic card - one of which is a Triple Relic...
I received these:

Triple Relic/Triple Auto #ed to 18
Javier Baez
Maikel Franco
Joc Pederson

Jumbo Patch #ed to 9

Leonys Martin
Jumbo Relic / Auto #ed to 25
Kendall Graveman
Triple Relic #ed to 36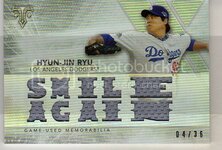 Hun-Jin Ryu
Parallels
Green, Purple, Blue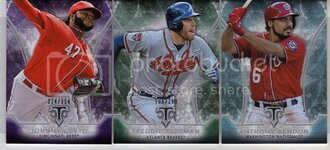 Purple #ed to 354
Harper and Cueto
Green #ed to 250
Freeman
Blue #ed to 25
Rendon
Base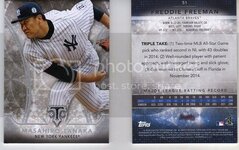 6 total base received - Freeman, Tanaka, Ripken, Rizzo, Pujols, Ortiz
Triple Threads is a premium issue. The cards again are printed on very thick stock with the front being glossy and the reverse matte. The photos seem to 'pop' more this year with the grey background.
This is definitely an issue for the player collector. The set builder and rookie collector will have some obstacles to overcome. Only receiving 6 base cards - one will need to make a bunch of trips to the 'bay to complete this set. I received no rookie cards. There are retired players in the set - for those collectors that have player collections from years past.
Unimpressed with the stickers.... understandable on the cards with multiple autos - not the single signed cards.
Overall grade
A-
no rookies, and sticker autos, however the design is very good this year.
Go buy several boxes and send the 4th place Rays
to me!
Duane