Many of you read about my debacle in Grand Prairie on Friday. I emailed my frustrations and got some free tickets to use at my discretion. Last night I decided to go to the Air Hogs v. Sioux City Explorers game. They were playing 2 seven inning games and I took my oldest nephew along with me. We got there in about the fifth and then got some autos in between games. Stayed for about 3 innings of the second one and then cruised. Got pretty much everyone that you could. He also caught 2 American Association foul balls(hope to get Paxton to sign one before he is drafted)...fun time though, maybe 500 people there, we were the only ones getting autos in between games.
All are FT---
T.J. Bohn 4/4
(1 for greatdad)...saw Bohn hit a 3-0 fastball about 385 into the left field bleachers...funny that he played about 8 games for Philly in '08 and got a WS ring...

Les Lancaster 3/3
super nice guy
Pete Incaviglia 6/6
Geno Petralli 4/4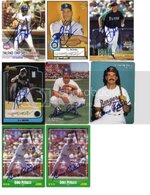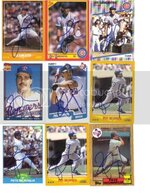 and TTM
Barry Larkin 4/4!!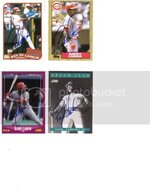 thanks for reading!!