Well I was finally able to get a few more Topps Chrome Autographs I needed, but instead, USPS decided to burn my package.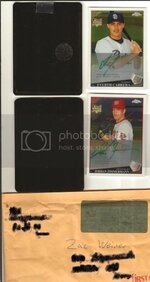 Take a look @ the USPS Postage, it's completely black.
The Top Loaders are black from being fried and are crippled. The penny sleeves are stuck to them on the inside and the two cards autographs are both coming off the cards, turned green, and the whole card is tinted brown now..
This I have never seen before, and is a new one. I thought they were raising their priority mail prices to cover for the "gas surcharge", not to waste it on smokes!
Anyway, anyone ever seen this before?