Had a really good weekend. Saturday went horrible and got nothing, but went back for the Jets on Sunday and even though I didn't get any current players, I'd say I made out well.
First off got former Giants QB and SB 21 MVP Phil Simms to sign 3 cards and a football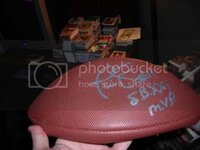 Also got Randy Cross to sign his Super Bowl Superheros card
Then was able to get Curtis Martin who signed a Patriots mini and 2 cards(Jets and Pats)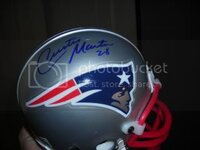 Julius Jones was also there to see his brother Thomas play and signed 2 cards(Cowboys and Seahawks)
Then another former Super Bowl MVP came out and said he promised he would sign next time in town because he wanted to get leaving for the game. He went to his limo and found out he was early and came over and was one of the coolest guys ever. Talked to everyone and took pics with anyone that wanted one. I was able to get this football signed and a pic with him.