so i decided to venture the 20 mins to LaGrave Field where the FW Cats(an independent league team) play.The field is quite historic(built in '26) and there is a plaque that lists the 50 HOFers that have played there. some pretty salty names indeed..
Anyway their opening day is tomorrow and today's practice was open to the public. They also have 2 guest instructors in town, which is why i went.
Got there at 3(when practice started) and the instructors were no where to be found. I was worried and was about to head home, when i asked an employee and he told me they would be here in 5 mins...
I was the ONLY person there and the car pulls up. Ferguson Jenkins nicely signs a ball and then i asked if he would sign some cards after practice. He says sure.
Two minutes later Maury Wills finally gets his golf clubs out of the car and he enters. Wills was super cool. We walked into the Cats offices so he could set his clubs down. I asked him to sign this ball for my nephew and include 3 Times World Series Champ. Well then he asks"Do you want NL MVP 1962".."yes, please, that would be great...He continues, "How about 104 stolen bases 1962?" "that would be awesome,sir".that led to him adding like 6 different inscriptions ..he was really cool and signed all my cards too.
I went to the field after that and Jenkins was already changed and on the field. He walked down to the bullpen where i(once again, the only person there) got him to sign the cards i had. after he signed the 71 cubs team card, he sat and held it for about 3 minutes and said"you know there are a lot of dead guys on this card" and started telling me all the guys that were dead.
"Johnny Callison, he's dead..Hank Aguirre's dead. Leo Durocher..well all the coaches are dead..no wait, Joe Amalfitano's still alive.what about Herman Franks? no, Franks died last year...Willie Smith's dead. Joe Pepitone was sick last time i saw him.." and on and on...
...a very interesting moment indeed....it was interesting to see him in a baseball uni..
anyway i had a blast, it took about an hour of my day and i got to converse with some really prominent former players...
the take....
Maury Wills 6/6 1 SS OMLB with the following inscriptions
"3 Times World Series Champs
Mvp NL '62
104 Stolen Bases 1962
"
other panel had these inscriptions(like i said, he went nuts)
2 Gold Gloves
7 All-Star Games
6 straight years stolen base leader NL
Fergie Jenkins 5/5 1 SS OMLB with HOF 91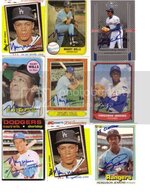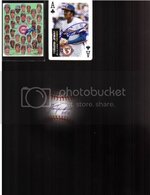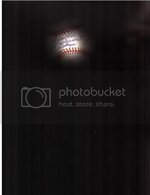 thanks for reading!!!