Joined

Dec 19, 2007
Messages

4,873
Reaction score

0
Points

0
Location
I really hate seeing people buy those fake patches and supporting these crooks. I'm not saying that it's always the seller's fault because sometimes they bought the card and are just reselling it. But, I'm going to give you a few pointers when buying that "amazing 1/1 team logo patch card"
Here's the first one: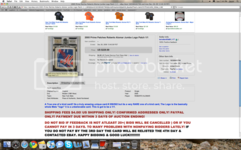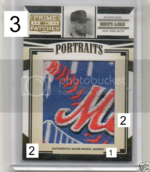 Rule #1 (referring to #3). Know the set! If logo patches from the set are low numbered, you have to know that! In this case, logo patches from Prime Patches are extremely low numbered and if you look in the item description, this card is /502. So, a red flag right there. Now, (I'm talking about #1) if it says it's a jersey, it came out of the pack as a jumbo jersey, and someone changed that. So, since it says "game worn jersey" and it's a patch, that's another red flag. Lastly (#2), look at those threads hanging out. The way companies put the patches into the cards at the factory, that will not happen. It will only happen when a fake patch is inserted afterwards.
Onto the next: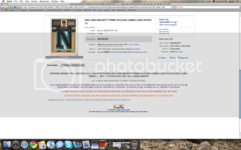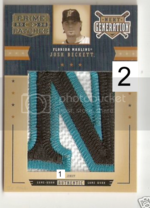 Let's start off with #2 and this should be a
HUGE
red flag. EDIT: There is an N in marlins, so scratch that. Josh Beckett does not have an N anywhere in his last name!!!! So, that should prove that the patch is fake right there. And it also says jersey and it's a letter patch. The card also is /391 which is another warning sign.
And here is a picture of a
real
patch.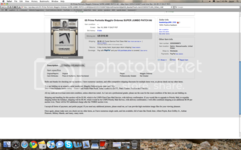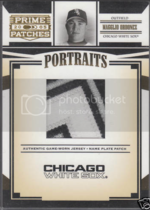 Here are some ways to tell that the patch is real. #1 is that it says under the jersey, "Authentic game worn jersey,
name plate patch
." This part is key in telling tif the card is real or fake. THis patch looks to be from the name plate, so that's a good sign. Also, the card is /37 which is also normal for patch cards from this set, so another +. This card looks legit.
Lastly, some general tips and more ways to tell if it's real or fake. You can also see the seller's past feedback to see if he bought the same card, but in a jersey form. This is really easy to tell if the # is on the front. It takes some time, so you would only want to do this if you're really torn. Also, see if the seller is selling any other questionable patches in his completed listings, current listings, and feedback.
NOTE: Some patches before 2002 or so are real, but will say jersey. That is normal.
Stay safe!
-Jesse
Last edited: