Hey everyone,
I bought the card below for $10.59 dlvd on eBay as a BIN listing. I asked the seller about a COA, and he told me that he got the card from another dealer who said Musial signed it at a local show.
The Masterpieces products are by far my favorite ever, as most of you know. I was excited to get it in the mail and to send my card away to get authenticated and encased for the first time ever. I figured $50 for the card and the shipping & JSA charges isn't bad for a Musial Masterpieces auto.
Well, now I know that I paid $50 for nothing. I guess that's a risk I took and I have to live with it, but I will never do that again.
I had compared it to several Musial autos, and thought that it looked legit, but I was wrong. The seller has perfect feedback, so I don't think he's a dirt bag. But I'm pretty bummed about the whole thing. Just thought I'd share.
Maybe it wasn't the smartest purchase, but I thought I'd give it a shot. I got burned. I sent the seller an email to let him know that it was a fake, and look forward to his response.
John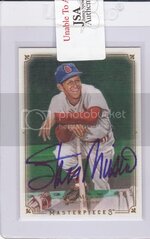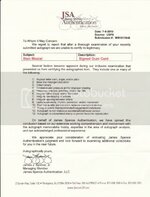 Last edited: