Went to the Whitecaps game tonight for Tiger Friday, as well as Carlos Guillens Rehab assignment. I got to the staidum about quarter to three and waited about five minutes before Guillen showed up. There was probably about 20 people and he graciously signed one thing for everyone there. I got a ball and my brother got a card for me. After that he got inside he became a dick to everyone though
. I waited in line with my brother to try to get him a second time by the dugout. My brother got a 2nd card signed (gave to my cousin), and when I got up he said "I already signed for you" and then "I gotta go". He left with a line of people waiting, this was also seconds after the whitecaps staff said he would sign for five more minutes. I didnt bother to try to get him before he left.
All in all it was a great time and game with a walk off Caps Win, I got Guillen's auto on a card and ball, Henneman on a card and ball, five more Whitecaps cards signed, and Richard Zumaya on a program.
Carlos Guillen Card: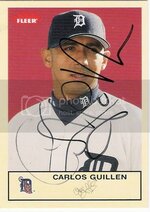 Mike Henneman Card: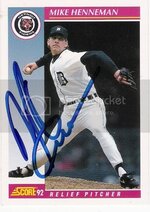 Wade Gaynor/Alexis Espinoza/Jamie Johnson: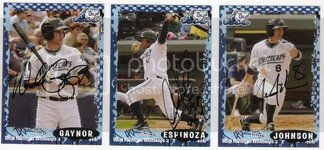 Trevor Feeney/Joe DePastino: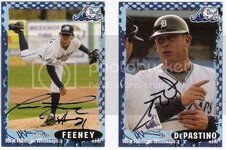 Richard Zumaya Program: