Joined

May 4, 2006
Messages

361
Reaction score

0
Points

16
Location
In 1988 Topps manufactured an "Experimental Issue" set which was discarded called the Topps Cloth series. The full set consists of 132 "cards" which were created in one single sheet. The backs are blank. From the original experiment, less than 100 of the sheets created were salvaged, 60% were cut into singles, the rest were left uncut. Most of those original sets were destroyed and from what most collectors have gathered, there are less than 50 sets that made it out the back door.
When submerged in water, these cards were made to expand into a small sponge. To my knowledge nobody ever had the will to try it on their '88 cloth card because they are valuable and rare. Curiosity got the best of me. I couldn't do this on my McGwire version so I bought another one online from the set. Now we can see what really happens with them when submerged in water...
So now the question is, how many minutes do you think it will take when submerged to expand in water (if at all)?
Here's scans of the one I got to experiment on:
Edit* I'll be doing it sometime this weekend. I'll either post pictures or a video.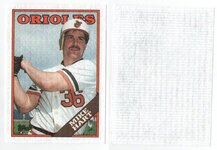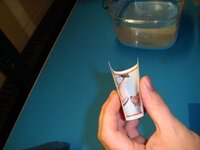 Last edited: