Today I got this from San Diego State pitcher Addison Reed. A little background...
Addison Reed was the 2009 recipient of the National Collegiate Baseball Writers Association's Stopper of the Year Award as he recorded a nation-leading 20 saves in 20 opportunities(closing out a few for Strasburg). He finished the season with a microscopic 0.65 earned run average and 38 strikeouts over his 27.2 innings of work.
This year as a starter he is 4-1 with a 2.70 era and opponents are batting .197 against him...
He is projected to go first round and I missed him in Fort Worth a couple of weeks ago b/c he broke his pinkie and did not travel. He is making his first start since the injury tonight against Utah, I will definitely see how he does.
He included a nice note(he must have enjoyed those arron) and signed 3 cards(one for arron,one for andrew)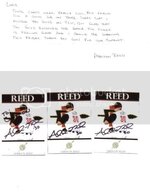 Nice to see a dude taking the time to write a note...i hope he enjoys some mlb success...